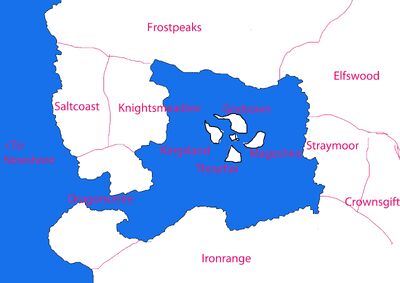 Welcome to the Land of Erathia
'Player' assigned group names:
General Twigbeard's Travelling Freakshow (Jerrol Twigbeard)
General Chaos (Cid/Twigbeard?)
Glorious Goblin and Co. (Marsh Stormwatcher)
Company Name:
...
The Twelve Provinces
Edit
Dragonsmire
Thrazhai
Other PlacesEdit
The Outplains
Characters
Edit
Current Party Aldiana Homeforger (Played by Jenny), Carri Ghosthat (Played by Alex), Chronon (Played by Jeremy) , Jerrol Twigbeard (Played by Jordan), Lariel Wolfsmoon (Played by Nathaniel), Marsh Stormwatcher (Played by Chris), Sylvanna Wildarrow (Played by Morgan)
Deceased/Retired/Hiatus Characters: Andrian Starblade (Played by Alex), Artyur Rageleaf (Played by Morgan), Cid (Played by Jeremy), Darian Silverquil (Played by Nathaniel), Quinn (Played by Jordan)
Guest Characters: Antonius Hammerfist (Played by Andrew), Frader Wintershield (Played by Francis), Pamweller Thronesworn (Played by Andrew), Porters guild dude (played by Francis), Changeling assasin (played by kitten)
The History of Erathia
Edit
Dawn Age
Dawn War
Betrayal of Thrazul & Ahai
Grant of Divine Freedom
Age of Legends
Time of Bael Erathis
Birth of the Raven Queen
Founding of Bael Nerath- The followers of Neratha pushed back the hoards of Goblins and giants into the realm now known as frostpeaks. They then established castles and manor houses which would come to form the famed noble houses of the Nerathi empire.
Founding of Bael Turath- The followers of Turatha landed on the rugged inhospitable shores of what is now Straymoor and fought tooth and nail to collanise the land from barbariac gnolls, goblins, orcs and other savage races. Eventually they founded a number of fortified towns and villages and gained their repuation for persistance and fortitude.
Rise of Orcus
The Forgotten Years
Fall of the Avians
Fall of Arkhosia
Isolation of Bael Erathian Kingdoms
Feyshift of the Elves
Time of Kings
Height of power of Zardonfell
Renaissance of Bael Erathian Kingdoms
Beggining of Human Domination
Age of the Empire
The Organistations of Erathia
Edit
Prophecies, Predictions and Queer Mutterings
Latest activity
Edit
Ad blocker interference detected!
Wikia is a free-to-use site that makes money from advertising. We have a modified experience for viewers using ad blockers

Wikia is not accessible if you've made further modifications. Remove the custom ad blocker rule(s) and the page will load as expected.